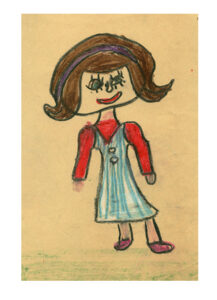 Eve Aldridge got her start as a self-tot muralist in Berkeley, California, but due to over zealous wall monitors, no murals remain. She was officially "discovered" at George Hall Elementary, when her crayon self-portrait, rendered directly on the school's playground, got her called into the principal's office for "recognition." Fortunately, further attempts at art expression received a more favorable response in the form of ribbons and gold stars, which eventually encouraged her to attend The California College of Arts and Crafts, where she earned her Bachelor's degree in Illustration.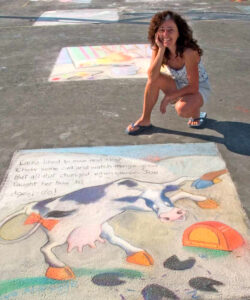 Her published children's books: Sing my Song, by Steve Seskin, Hurry Granny Annie, by Arlene Alda, and Sarah's Story, by Bill Harley, can be seen on her books page, along with Once Upon a Bagel, by Harlow & Ratner.
Besides working with book publishers, her illustration clients include the San Francisco Chronicle, Center for the Collaborative Classroom (SIPPS & KidzMath), PAF Program Reading Series, and UCSF Benioff Children's Hospital.
When she's not illustrating, she's reading and writing kids' books, glaring at crossword puzzles, running up hills, or drawing on school playgrounds. She lives in Oakland, California, with her husband, Bruce, and crazy Catahoula, which sounds like a cat, but is actually a dog . . . who looks like a seal . . . in evening gloves . . . with polka dots.